Have you been reading about 3D television and 3D games, but don't know where to start? This guide is my recommendation for setting up your new 3D Entertainment Center!
Step 1: The 3D Television
If you can find one and have the money, the new Panasonic LED Viera 3D Television with "3D Full HD" is the way to go. There are also Plasma displays available, though I do not have any experience with that technology.
Why Panasonic? They are the only manufacturer to support 1080p resolutions at 60fps. 24fps (standard) is useless for 3D games. This means you must drop down to 720p resolutions on other televisions, like the Sony 55HX800 I bought last month!
That said, I am quite happy to keep the $1,000 price difference in my pocket. 720p still looks amazing.
Step 2: The Computer
Unless you are already a gaming fanatic, you probably need a new computer. I recommend that your system have at least:
Intel i7 CPU
6+ GB RAM
nVidia Geforce 480 or 580.
700+ Watt Power Supply
Windows 7 64-bit
Internal 3D Blu Ray Player
It is possible to do 3D on older video cards, but you need every ounce of performance now that you are rendering for two eyes. If you are buying the Panasonic, consider buying a matched set of cards if it fits in your budget. Also, remember, dual video card configurations will require bigger power supplies (1000+ Watts).
The 64-bit operating system is essential to make the most of the i7 and all of the RAM.
You really can do with less RAM, but these days, you can get 12GB for $100, so stop complaining.
Step 3: Software
nVidia 3DTV Play

Unless you are buying the nVidia 3D Vision kit (glasses, sensor, software), you need to buy the 3DTV Play software from nVidia's website for another $40. This really ticked me off. I tried for over an hour to find a workaround before I finally gave in and shelled out the cash. It's obviously nothing more than a tool to flip a switch in the driver software, too. If you don't get this, you can watch movies, but not play games.
nVidia Store for 3DTV Play Software
Cyberlink PowerDVD 10 Ultra 3D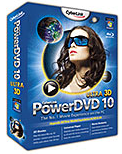 nVidia's hardware H.264 decoding is a complicated beast. PowerDVD solves this problem and the decoder stays installed for use in other programs, like VLC, if you remove PowerDVD. That said, I have used Cyberlink PowerDVD for years and find it a solid product.
Cyberlink Store for PowerDVD 10 Ultra 3D Software
4. Digital Surround Sound – Audio in 3D
You have a 3D visual experience waiting to happen, but what about the sound?
I recommend the following method for setting up audio and avoiding sync issues that are common to HDMI:
connect the HDMI cable from the PC directly to your 3D Television's HDMI input
connect an optical cable from the PC directly to your amplifier
In Windows 7, set the SPDIF (or non-HDMI digital output) to be your primary sound device
The most important part of setting up your surround sound system is to ensure that all of the speakers are properly setup with your amplifier. Some amps come with a microphone for tuning, otherwise, grab a dB meter from a place like The Source to ensure that you are getting the most out of the experience.
Also, make sure that your black/red wires are not mixed up anywhere. If they are, you will probably never realize that you are missing out on some of the sounds.
5. Enjoy your new 3D Entertainment Center
Congratulations on setting up your 3D environment! It may not have been easy, but it is worth the effort.
If you have little or no experience with 3D content, turn down the 3D "effect" in the nVidia drivers. The more you watch, the more your eyes will become used to the experience and you will be able to increase the effect. Be patient, and take regular breaks.
Place a 3D movie into your computer's Blu Ray player, sit back at least 1.5m, and enjoy!
After the movie is over, load up Call of Duty: Black Ops for the full 3D experience.
Enjoy!